MAGICIANMATIAS FUNDRAISER PROGRAM 2016
WILL ENTERTAIN YOUR GUESTS 100% GUARANTEED!


Matias Will Help You Turn A Family Fun Night
Into Thousands Of Dollars For Your PTO!
Have you ever been to an adult party or family event and witnessed a magician with a charming accent perform surrounded by people; they are unable to turn their heads away from him; totally focused on every trick, every illusion; and wanting to be amazed over and over again? Have you ever experienced that before? If your answers are no then you haven't seen Matias Letelier because that is precisely what he does!
Indeed, Matias is the new hottest Magician for private parties in NY! His charming accent along with his top-notch magic, a unique blend of mentalism, clean comedy, high energy, and (most importantly) lots of audience participation will help you make your next event not only fun, but also memorable.

Would you like to have a risk-free event
that has a profit potential of up to $ 4,000?
This great fundraiser program is modeled after a proven step-by-step system from a magician who has helped numerous schools and PTO's raise money through a Family Fun Night Event. The best part is that there is absolutely no risk for you!
We were amazed when we discovered this system and are excited to share this fundraising program with you! And, we will share amazing tips that will help you increase your revenue even more!
This step-by-step program includes how-to suggestions for promoting your fundraiser with local media with guidance on attracting a large audience! We know how successful our program is and are excited to start working with you right away!

But Matias, how can this fundraising program be so successful?

Costs to you are minimal:

Printing the marketing materials on a local printer to include

admission tickets, programs, and flyers.
We provide the ready to print templates:

Tested flyers, programs, and admission tickets.

There are no risks:

You do not have to put money on the table!

It's easy:

You just bring as many people as possible to the show and enjoy!
That's right, all you do is schedule the locations, promote the event and sell tickets using ideas we provide! We will bring a self-contained show, including our sound system and stage-backdrop. Also, we are fully insured, so you will be safe with us!
Stage Illusion Show With Assistant
This is a professional show that will turn your event into a fun and memorable family night! You'll see Matias perform his world-class illusions with his assistant Coni. He will keep both, children and adults,engaged and entertained with his clean comedy and interactive magic. And will include your school'sname and some custom tricks specially created specially for your event that will have the whole audience hysterically laughing. And we guarantee everybody will talk about it for years to come, which makes it for a great recurring yearly event!

This looks great, now how long is the show?
Depending on the type of venue we will offer one of the following options:
Full Production Show: This is a 90 minute full production show tailored for schools theaters or auditoriums and is great for audiences of 200-400 or more.
One-Man Show: This is a basic 45 minutes show tailored to small venues and small audiences from 50-200.
If you do not have a theater available for the show, our recommendation is to plan for the basic 45
minute show. Whichever show or length you choose, it will be worry free because we will take care
of everything!
How many people are you expecting?

We know that every group is different, but you should plan for 200+ audience to be successful. The table on the right illustrates your revenue based on the size of the audience for your event and considering an admission of $8 per person.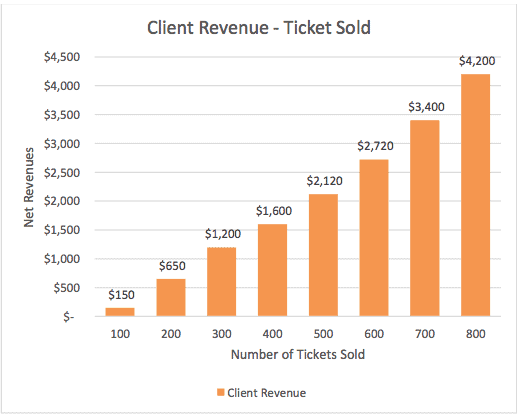 As much as we would love to help small events, our fundraiser program is best suited for groups of 200+. You will need a 200+ audience to make your fundraising event cost effective.
Please note that the $ earned here are solely from tickets sold. There are other options to increase your earnings by a few extra thousands. We will discuss that further at a later point in the presentation.
If you follow our system, you can easily draw a 300+ audience!
Financial Breakdown Of The Fundraiser

Here's how the financial end of the fundraiser breaks down:
The first $500.00 (only 63 tickets @ $8.001 each) goes directly to the show.
If you sell more than 100 tickets then the initial fee goes down to $300. 00 (only 38 tickets @ $8.00 each) unless you sell 201+ tickets which is not difficult to do!
After those first $500 or $300.00 we split the proceeds 50-50.
When you reach 400 tickets sold your percentage of those tickets over 400 tickets is 65%.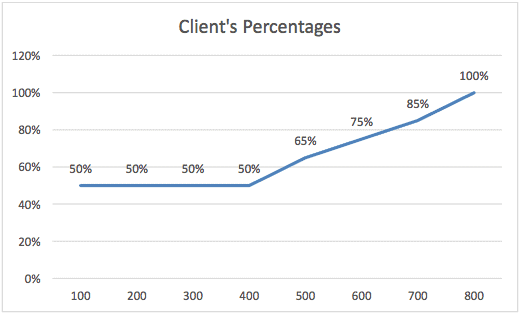 When you sell 500 tickets your percentage of those tickets (from 500+) is 75%!
When you sell 600 tickets your percentage of those tickets (from 600+) is 85%!
When you sell 700 tickets your percentage of those tickets (from 700+) is 100%!
YES, YOU HEAR ME RIGHT! You will get 100% of every ticket sold after 700!
That's right – the more tickets you sell, the higher the percentage of the profits you keep! Your potential is phenomenal while the risk to you is non-existent!
IF YOU FOLLOW OUR SYSTEM AND YOU SELL 800 TICKETS THEN YOU CAN MAKE UP TO $4,200.00 ON TICKETS!!!
Call us now at 646-476-9830 or email us at contact@magicianmatias.com to learn more about this program and how we can help you make thousands of dollars for your school!