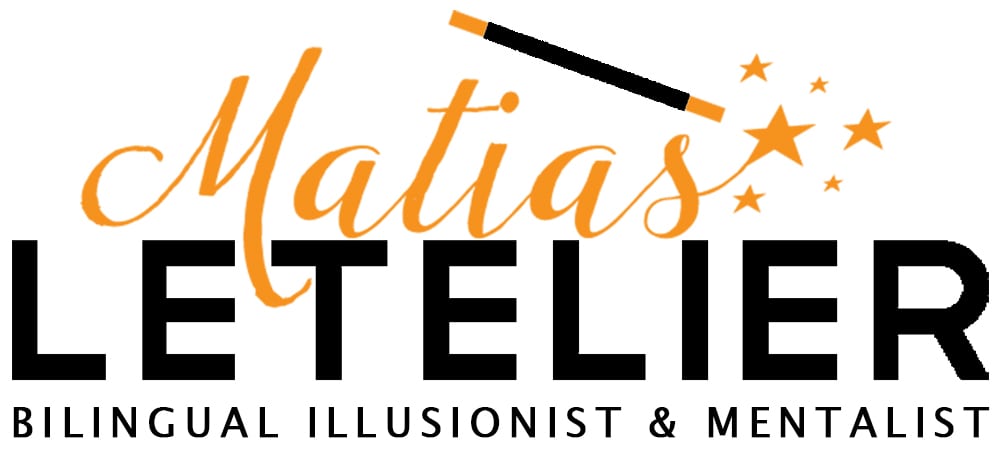 Let's make this summer fun, exciting and memorable!
, We Guarantee Matias' New 
Show
Will Make Your Summer Camp Fun, Exciting, and Memorable!
Thank you for your interest in Matias' Show for your Summer Series 2018. We call him the
Entertainment Specialist
because he knows how to keep young and older kids engaged and entertained with the best
clean comedy magic
! Every Summer Matias helps make and other summer programs fun, entertaining and exciting. Last year, Matias brought his educational, motivational, inspirational and magical show
The Magic of Imagination
and the kids had a great experience. Everybody got involved with the magic and learned the importance of using their imagination to achieve their goals and make their dreams come true!
We know how stressful it can be to plan your summer events. You want the kids to have a fun and memorable event…..and all while staying within a budget.
If this Summer Camps & Libraries can Trust Magician Matias to make their summer camps fun and memorable, so can you!
Summer Camps:
Boys & Girls Club of America, New Rochelle, NY
Ossining Recreation Department, Ossining, NY
Breezemont Day Camp, Armonk, NY
Claremont School, Ossining, NY
Ryder Park, Ossining, NY
Community School, Prospect, CT
Katonah Memorial Park , Katonah, NY
Bedford Hills Memorial Park, Bedford Hills, NY
Bedford Village Memorial Park, Bedford, NY
Town of North Castle, Armon, NY
William E. Cottle School, Eastchester NY
Veterans Memorial Park, Harrison, NY
Yorktown Recreation, Yorktown Heights, NY
Symphony Space, New York, NY
Meadow Pond Elementary, South Salem, NY
Harrison Recreation, Harrison, NY
Haddam Killingworth Recreation, Higganum, CT
Town of North Castle, Armonk, NY
Nannahagen Park, Pleasantville, NY
Fayerweather Street School, Cambridge, MA
Fourth Church Summer Camp, South Boston, MA
Discovery & Adventure Summer Camps, Medfield, MA
The After School Club, Woburn, MA
Exxon Mobil Bernard Harris Summer Science Camp, Worcester, MA
Paraclete Summer camp, South Boston, MA
and many more!
Library Shows:
Milford Public Library, Milford, CT
Shelton Library, Shelton, CT
Harry Bennett Library, Stamford, CT
Fair Haven Branch, New Haven, CT
Wilson Branch Library, New Haven, CT
Somerville Public Library, Somerville, MA
Cambridge Public Library, Cambridge, MA
Egleston Square Branch Library, Roxbury, MA
Codman Square Library, Dorchester, MA
Dudley Library, Roxbury, MA
Wayland Library, Wayland, MA
East Boston Library, East Boston, MA
Somerville Public Library, Somerville, MA
East Boston Library, East Boston, MA
Charlestown Branch of Boston Public Library, Boston, MA
Uphams Corner Library, Boston, MA
Faneuil Branch/Boston Public Library, Brighton, MA
and many more!

"Excellent Performance. The Somerville Public Library just had the pleasure of hosting a magic show this afternoon with Matias Letelier. Matias brought a lot of humor, enthusiasm, energy – and a rabbit! – to his performance. The kids were fascinated and really enjoyed the show. Recommend for children ages 5 and older/families. Thanks again, Matias, for a wonder program."

"Magician Matias put on an amazing show for children and families at our library. He arrived early, required little set up, and made everything easy for us, even handing out Matias Magician coloring sheets to the early birds. The show was multilingual, interactive, lively and engaging with music, humor, a live rabbit and lots of chances for participation. He even taught the kids a trick and gave them the instructions they need to do it at home. Everyone loved the big finale and the chance to pet the rabbit. Hire him– you will not be disappointed."
WHAT REALLY MAKES A SUMMER SHOW UNFORGETTABLE?
We believe that a good quality show that keeps everybody engaged and entertained is the most important factor to making your fun and memorable. But there are so many options to choose from and everybody will tell you they are "the best". Do you hire this person or another? It's frustrating to try and figure out who will please everyone, isn't it?
SO WHY SHOULD YOU BRING
THE MAGIC OF IMAGINATION
THIS SUMMER?
The Magic of Imagination
 shows the kids
 the importance of using our imagination to achieve goals and make dreams come true. 
The show's unique blend of sophisticated magic that is age appropriate, clean comedy, high energy, a live bunny (for young children), mentalism (for the oler kids), music, and (most importantly) lots of audience participation will keep young and older kids and adults, engaged and entertained, making your next summer event not only fun but also memorable.
This year Matias bring new and exciting illusions including The Burnt Shoe & Mirror Penetration. Just imagine the children's faces when one of the kids magically passes through a mirror. We know. It sounds impossible. And that's exactly why this illusion is so great.
In this context, passing through the mirror means that we can make the impossible possible; that we can enter into the world of magic where dreams become real; and that everybody is welcome!
MATIAS BRINGS A SELF CONTAINED SHOW
Yes indeed, Matias brings everything for the show and his set up is so smooth that you won't even notice he is there! He simply sets-up 30-60 minutes before the show and then he is ready to provide a fun, interactive, motivational, inspirational and educational experience for the children and their parents.
In addition, his ability to speak Spanish makes him a great addition to those serving Hispanic communities.
One of the most talked about tricks is Matias' "Floating Table Trick". Matias will make a table float in mid air that will drive the kids crazy! He will tell the kids that if they use their imagination, they will make the table float! This is great because it gives an example of how important is for us to use our imagination to achieve goals and make dreams come true. To see this trick in action, press play on the video below:

"Magician Matias performed his Magic of Imagination show at the Egleston Square Library for an audience of about 45 kids (ages 4-12) and parents as part of our summer programming kickoff. The show focuses on the power of imagination and uses a lot of wordplay and storytelling, so it's easy to tie in with the library mission. The tricks were very impressive (I couldn't figure out how they worked), and his patter was hilarious and very kid-friendly. He was great with the kids both during the show (he used a lot of volunteer assistants) and after (he let all the kids meet his bunny Bowtie). We drew a slightly wider age range than we were planning for, but it didn't seem to be a problem — all ages were enraptured. The parents also seemed to have a blast, as did our staff. He was very professional – arrived well ahead of time, brought his own sound system, and took care of all setup and cleanup. He also was happy to stick around after the show and answer kids' and parents' questions (in both English and Spanish, a bonus for our community). Many kids and parents thanked me afterward for bringing the show to the library. Highly recommended!"

"Matias was fantastic! Booking him was quick and easy, and he wa always fast to respond to my e-mails. We had a group of 40 with a range of ages from 3-60, and everyone had a blast and was amazed and entertained. I loved Neptune, the bunny, and how interactive the show was with lots of magician's assistants. Highly recommended!"

"Matias performed at our Central library to a full-house of eager and excited families. He was friendly and happy and wowed the children with his magic tricks. His performance lasted about an hour and included lots of audience participation. Children raved about some of their favorite "tricks", some of which included a REAL live bunny rabbit and making a table AND people levitate! Parents also raved about the program, saying it was truly excellent. Due to the crowd and me needing to staff the children's room, I didn't get to witness the entire performance in our auditorium, but the sounds of amazement could be heard behind the closed door. Matias also mentions the importance of reading, and if you have a certain "book of the month" or other book featured at your library, he'll incorporate sharing that in his show.Fun, imaginitive, and worth every penny!"
Matias, I'd love to bring you this year! How much is it?
These shows are perfect for . The show can be accommodated to small rooms and outdoors/indoors areas.
1. STAGE ILLUSION SHOW WITH ASSISTANT AND ILLUSIONS
The Illusion Show includes big stage illusions with Matias' amazing assistant Coni. Matias will make her magically appear and then do a series of escapes and illusions including the kid passing through a mirror illusion that will have all both, young and older kids excited (including the camp staff!). Matias will bring his stage scenography, a professional sound system, plus all the kids will receive a complementary trick (according to their age). GENERAL PRICES
60 Min Illusion Show With Assistant $ 1,790
45 Min Illusion Show With Assistant $ 1,490
SPECIAL CRPA/WRAPS SUMMER CAMPS & LIBRARIES PRICES
60 Min Illusion Show With Assistant $ 990
45 Min Illusion Show With Assistant $ 890
The Premium Show includes some great one-man illusions (including floating table or child levitation), and lots of audience interactions. The main difference between the Premium and Basic Show is that the Premium show includes one-man stage illusions, professional sound system, stage scenography, plus all the kids will receive a magic trick by the end of the program (according to their age)
PRICES
Premium Show 45 Min + Magic Workshop $ 1,290
Premium Show 45 Min $ 890
Basic Show 45 Min $ 650
Magic Workshop $ 490
Joshy 40 Min Show $ 450
SPECIAL CRPA/WRAPS SUMMER CAMPS PRICES
Premium 45 Min Show + Magic Workshop $ 890
Premium 45 Min Show $ 590
Basic 45 Min Show $ 490
Joshy 40 Min Show $ 400
* If you are working on a lower budget, let me know and I'll tell you what we can do!
All show can be performed in English and Spanish or a combination of them.
Flyers will be provided along with a YouTube video to make the kids excited about the show (for social media).
In addition, Magician Matias' Mentee, Joshy, who Matias has been mentoring for the last year, is offering a great show for those who are working on a tight budget.
Here are some other shows for different age groups
This is show is perfect for family events where you need roaming entertainment rather than a stationary show.
Watch how Matias will turn five $1 into $500, or when he makes a ring fly. In addition, Matias will pickpocket the guests (even cops!) and will definitely amaze everyone with his charming accent and style.
SPECIAL PRICES FOR SUMMER PROGRAMS
3 hours $ 1,290 (Regular Price $1,490)
2 hours $ 890 (Regular Price $1,290)
1 hours $ 500 (Regular price $790/hour)

"I am greatly appreciative, impressed, and satisfied with the performance by Magician Matias. He incorporated the theme of our event into his act and was very interactive with the crowd. I'm happy to have found an entertainer who was extremely accommodating, prepared, and organized. In the future when looking for a magician I will definitely refer Magician Matias and look to book him again. He was very personable and great with the children as well as adults."

"We have a large Hispanic population so his ability to speak Spanish was a plus! I liked how he related to the kids and did tricks for their level but also kept the adults interested. Excellent experience, would definitely book again!"

"Everyone LOVED this. I can't thank you enough – truly great."

"Matias performed a fantastic show at our library. The children were mesmerized by the magic tricks and laughed so much at all of Matias' silly antics. Matias performed the show in both English and Spanish. It was so wonderful to have a bi-lingual program for our community. Matias is very professional and great to work with! We can't wait to have him back!"
, ready to have a great experience this year?
DO NOT DELAY!
DATES FILL UP EXTREMELY FAST
———–
Request availability or reserve a spot by filling up the form below
or calling (646) 476-9830