WE HAVE THE FOLLOWING VIRTUAL PROGRAMS FOR YOUR EVENT!
"Social-e-Connected" is a highly interactive One-Man show in which Matias will perform a series of tricks with the active participation of the guests, mixing high impact tricks and stage illusions that will make everyone feel socially connected.
In addition, Matias will use the screen to do some mentalist tricks, and a special connection test where everybody will get to do a card trick together from home, so get ready to participate in this unique virtual experience! By the end, Matias will make 8 bottles of wine magically appear, and will offer a toast for all the guests to celebrate that they are all social-e-connected!
And the show can be customized for your event to take Social-e-Connected to the next level!
"Mental-e-Connected" is Matias' newest virtual show that focuses on the mental connection with the audience. In this program you'll experience a series of mind reading demonstrations and mind games, along with some fun interactive tricks where everyone will participate from home.
In addition, Matias will use the screen to do some mentalist tricks, so get ready to participate in this unique virtual mental experience!
And the show can be customized for your event to take Mental-e-Connected to the next level!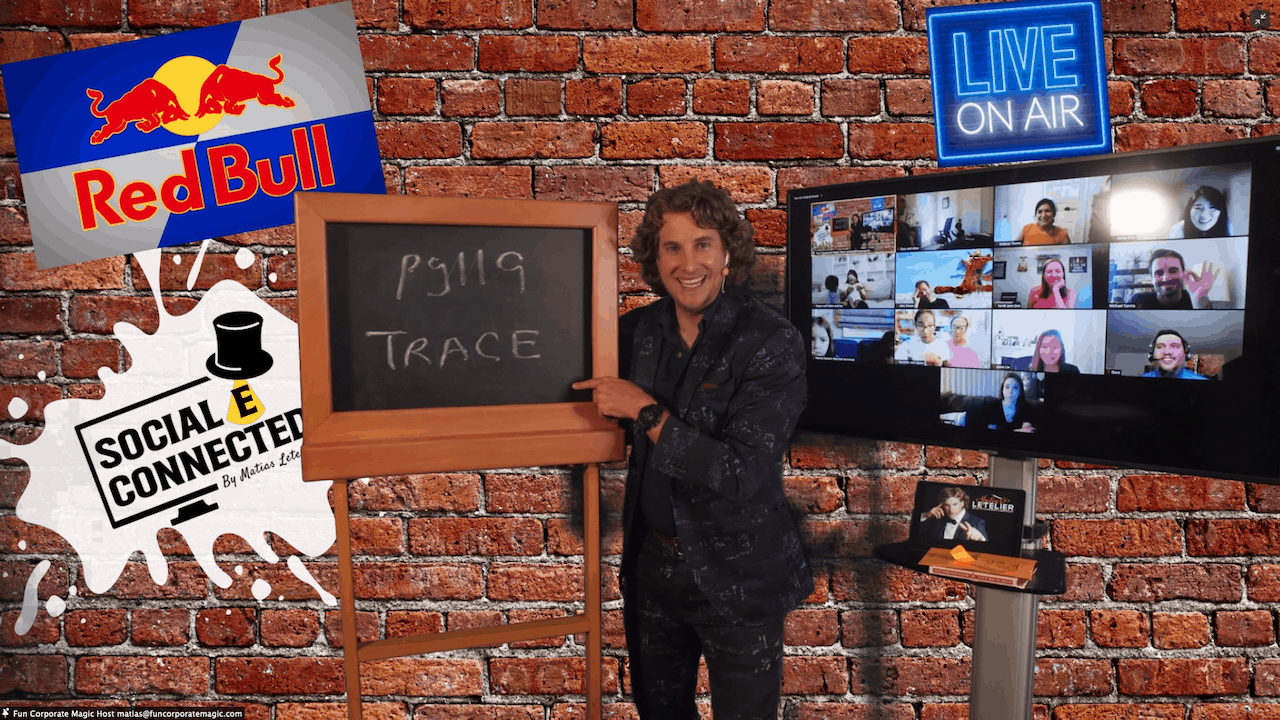 Matias will show your group a few tricks and then will proceed to teach the guests some easy-to-do but very fun magic tricks that everybody will be able to do that same day. These are especial tricks that Matias has carefully selected and prepared for this activity. And you can find everything you need at home!
Some of the tricks are:
How to make the 4 aces magically appear
Mentalist/Mind-reading Trick
Impossible prediction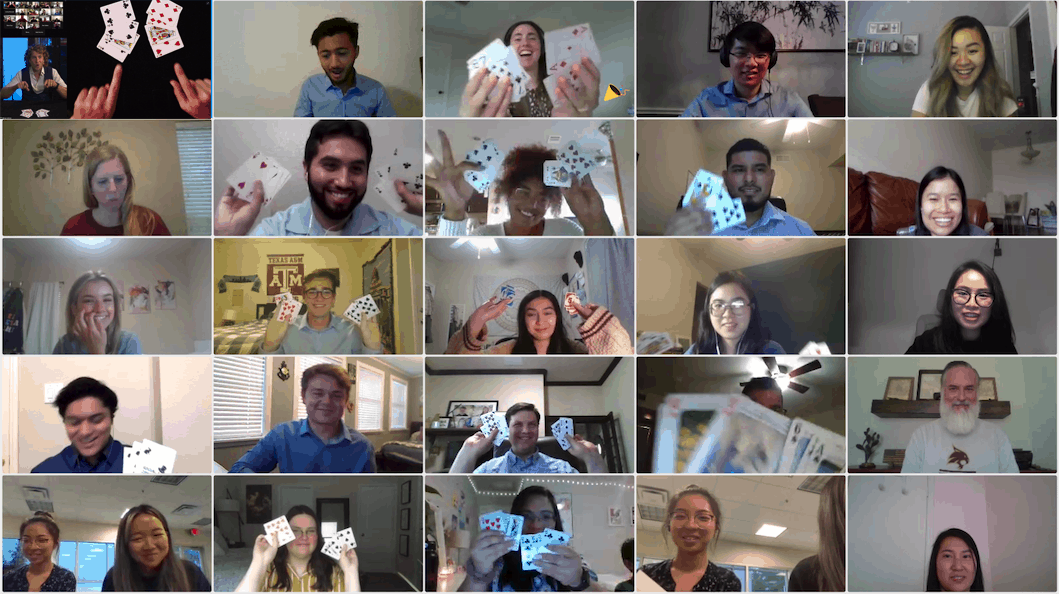 We also have other great and talented virtual magicians available for you. They might not have a large production such as Matias, but they do have a fun and interactive show.
Imagine the delight of your co-workers when Santa Claus logs right onto your office meeting. Go grab the kids and let them know their parent's job is pretty great when Santa Claus is part of the team. St. Nick can personalize this visit and make sure we know who's on the nice list.
Frequently Asked Questions
What is a Virtual Show?
Basically, a virtual show is a performance that you experience through your computer, tablet or smartphone. 
We have created a full stage-like virtual production to emulate what you would experience in a live show, but from the safety of your home so you don't have to worry about human contact and the COVID-19.
How do you do a virtual show?
We have set-up a dedicated room, with a dedicated computer, the fastest and stable wired internet, a Zoom business account with 1080p HD streaming quality, professional lights, professional audio system, 5 professional cameras, 3 screens, and a big production to make sure your experience truly enjoyable and smooth.
Don't you hate when you are watching your favorite show and the audio or connection is choppy? We take care of every single detail to make sure your experience and quality is the best.
What does 360, 720, 1080p mean?
That's the quality of the live streaming. the higher the number, the higher the streaming quality. Most of the virtual shows are being streamed at 720p for small groups, and then goes down to 360p for larger meetings. Why? Because streaming at a higher quality uses a lot of internet bandage. If you don't have a strong internet signal, a HD camera, and a strong computer, you won't be able to access HD quality.
We have all of that and more so you and your guests can experience the show at HD. 
What platforms do you use?
We can do our show in any platforms, including, but not limited to:
Zoom (preferred)
MS Teams
WebEx
GoToMeetings
Discordia
Facebook
Google Hangouts
etc
Why do you prefer Zoom over MS Teams or Cisco WebEx?
Zoom not only improved their security, they also improved their overall performance allowing us to have up to 49 screens at a time, separate the "presentation" screen from the "participants", has integrated chat, break rooms, and some great features that allow us to bring you a great experience. 
What is the booking process?
It is as easy as 1, 2, 3!
You confirm the details for the show and we will send you a contract.
You sign the contract and pay the deposit.
Then you will receive the "virtual instructions" with the meeting link (if we are the host), what to tell your guests, and how to prepare and be ready for the show.
We will follow up with you during the full process to make sure everything is a complete success.
What is your cancellation policy?
During this time we are flexible with our schedule, and we will work with you if you have to reschedule your event once we have received a notification prior to the event. We have everything laid out in our contract.
Who is the host? You? We? How does it work?
We can host the meeting for you, or you can set-up your own meeting and share the link with us.
If we set-up the meeting for you, you will benefit from the following:
Zoom 1080p HD group call. This means, everyone will enjoy a high quality connection.
We can set-up the meeting for as long as you want. For example, if you would like to have an extra hour before or after the show, we can do that for you.
You will have your own link (password protected) that you can securely share with your guests.
Can you do shows in a different time-zone?
We've done shows in all the continents and time zones. We have no problem. And TRUST us, we will double and triple check the time-zone conversion to make sure we show up on the same time. 
No, we haven't had issues on this, but we've heard of some time-zone problems from some of our previous clients. Yikes! 
Can you do the show in other languages?
Matias speaks English, Spanish, and Portuguese. And he is currently working on his French.
Is there a limit on the number of people attending?
Our Zoom account allows us to host up to 1,000 devices (1 device = 1 family).
We can also break your group into small groups. 
For larger groups, we can do a mix of live audience and live streaming (we've done this for 15,000 devices!)
Can we break our group into small groups?
If you have a large group and would like to have a more interactive experience, we would be happy to break it into smaller groups. And we will give you a block-booking discount too!
What types of tricks do you do?
Each show has a mix of:
Interactive tricks where all the guests participate along with Matias
Mentalism and Mind reading demonstrations
Stage Illusions
Comedy
Technological Tricks (iPad Magic!)
Is the show clean?
Matias' show is 100% clean. He doesn't use faulty language, sexual jokes, or anything that will embarrassed some of the guests. We have had our client's children watch the show and everyone had a good time!
What do you do if people don't want to participate?
Let's be honest, maybe you are not in your favorite cloth, or the hair salon is closed on show day. Don't worry, you can still have as much fun as everyone else, and you won't hurt Matias' feelings. But he will encourage you to interact in the chat.
Anything else we should know?
Hear what people say about Matias Shows!
I work for a Fortune 500 company and I hired Matias to do a social e-connected virtual magic show for a corporate team event of almost 200 guests. Matias has a wonderful personality, is professional and fun and the feedback from our group was overwhelmingly positive and everyone was truly amazed! I love how he was able to personalize our show by using our company logo and added very specific shout outs for our group that made it feel more tailored for a more connected experience. It also wasn't only watching him do tricks-he did several interactive tricks that everyone could participate in from home. He provided me with multiple contact methods and personally kept in touch with me. If I had any questions or concerns, he responded immediately and his assistant, Mikayla, was always available as well. He made me feel very at ease and his logistics were very easy to manage and made set up so easy! Highly recommend and sharing with my peers for future event ideas! Thank you Matias and Mikayla! I am sure I will be calling on you again in the future!

Pamela Collier
15:28 12 Aug 21
I am responsible for our annual company holiday party and this year it included Matias Leterlier. We had him for a one hour stroll during the cocktail hour. With 150 employees, I wanted to be certain they were entertained and from the comments I would certainly say they were! President is not the easiest man to please and when I informed him I was asked to write a review, he told me "Please do, he was wonderful.!"

The entire team and Rachel Wax particularly did a fantastic job at my party. Incredibly engaging to the entire dinner party audience. The perfect option to add something different to your party. They were also all very responsive in the lead up and flexible in designing a program that worked for our event/group.

Daniel Connelly
16:05 01 Jun 21

Colette Akiki
23:49 23 Feb 21
Matias provided an engaging and fun experience via zoom for our corporate and sales teams. Matias is funny and does some great interactive magic tricks.

David Knight
17:23 18 Feb 21
"Our family and friends were thrilled. Jack got to invite his whole class and their siblings. Everyone left with a smile and some beautiful new magical activities."

Jessica Atrio
19:16 22 Jan 21
Matias is a very talented entertainer and we had a really fun time at our company's virtual holiday party. If you want to have a laugh and learn a few good magic tricks, I definitively recommend!

Hugo Monteiro
17:56 08 Jan 21

JESSICA GAO
20:23 30 Dec 20
Matias was AMAZING! We had him do a 30-minute show for our virtual company Holiday Party! He brought lots of energy and made it extremely interactive, exactly what we wanted! All of our employees had a blast! This was a great decision and we would bring Matias back for a future event! 10/10 performance!

Toviah Pollack
18:58 28 Dec 20
I am an event planner and struggled this year as we had to adapt to changing all our annual events to online formats. The Corporate Holiday party for a prestigious Insurance company was proving to be seemingly difficult. How could I manage to find engaging, interactive entertainment virtually for 400 associates ranging from 18-65 years of age, CEO's and AVP's included?Well I can tell you. There was some pushback when I put in the bid, suggesting a Magician to join us in our WebEx call, but Matias won everyone over. If you are skeptical in the slightest, just join one of his free demos!Matias is excellent at reading the crowd, quickly adjusting to technical glitches and providing a seamless, fun and engaging event. Never have we received so many post event compliments! Fun Corporate Magic saved the day and I would recommend this company to anyone and everyone.Thank you, Matias and Marlana!

Tessa Schrader
17:07 28 Dec 20

Adia Smith
18:28 20 Dec 20

Kiki Cokorinos
16:11 18 Dec 20

Katherine Jensen
15:03 17 Dec 20

Nathalie Röthlisberger
16:39 14 Dec 20
Matias was able to help us host a fun virtual year end celebration. It was a pleasure working with him. He was very responsive through out the process.

Aashish Jagini
14:50 12 Dec 20
Recently came to our company (virtually) and was a big hit! Hope to have him again (in person) when we're back in office!

Gregory McCord
14:30 10 Dec 20
A great way to have some fun, have a laugh and connect while we are all virtual!

Emily Cain
17:31 24 Nov 20
Matias hosted one of our all-hands and it was fun from start to finish! I showed my husband one of the tricks he thought us and he was impressed with my abilities ;). It was just so fun to watch Matias do his tricks and teach us some fun ones to impress our friends!

Camila Franco
04:36 24 Nov 20
Matias attended one of our recent company all-hands meetings and blew us all away with his entertaining personality and incredible magic. I would highly recommend Fun Corporate Magic to any company looking for a fun and engaging experience for audiences of all shapes and sizes!

Justin Duke
03:46 24 Nov 20
Very fun show over the web.

Matt Alaniz
00:26 24 Nov 20
The company I work for surprised us with an online magic show and it was a really great experience! I was pleasantly surprised how well the show was adapted to the current global situation, it was very welcome and much appreciated! Would definitely recommend the experience.

Andreea Dersidan
14:59 22 Nov 20
We've had Matias do a show at one of our online office meetings and he was so friendly with everyone, as if he already knew us from before, and as if we were actually coworkers.He gives a very good vibe and he's so energetic. The magic tricks were really interesting and I am glad I had the chance to virtually attend one of his shows. Would definitely attend again, as I am sure he has so much more to offer.

Izabella Alda
23:59 20 Nov 20
We had Matias invited as a surprise guest at one of our company's global meetings and we loved every minute of it. I was impressed by how organised everything was form his end. I forgot for a few minutes that I'm in front of a screen and not at a real magic show. Matias is fun & charismatic and truly...magical!

Iuliana Ianik
18:42 20 Nov 20
Matias was awsome from beginning to end! Well worth the time and money!! We will be using him again!!

Matias was amazing! He helped us kick off our company's virtual Spirit Week and he left everyone with a smile! He did a great job of involving the audience and keeping everyone on their toes for the next trick! Highly recommended!

Leighanne Bennett
20:19 26 Oct 20
We participated in a virtual magic show and had a great time. My two daughters, ages 12 and 14, had a lot of fun and were amazed by the tricks. They also learned their own tricks, which they have been showing to others. Would definitely recommend.

Thomas Linthorst
13:16 25 Oct 20
Matias incorporated our groups' traits into the performance!! The show was very interactive even though it was a virtual magic show. It was a great social connection during pandemic time.

Anita Tang
03:31 20 Oct 20
Fun Corporate Magic were wonderful to work with! They provided a great experience with the virtual magic show, everyone had a fun time!! Thank you!!!

Jake Barrett
16:49 15 Oct 20
I truly enjoyed the virtual magic show, it was so much fun. The card trick which I did in my office was awesome, I'm not sure who he did it. Also he did something at the end where he creates bottles of wine! I need to invite him over for a dinner party. Thank you for a fun event.

Patrick Salazar
19:10 09 Oct 20
Very entertaining and fun!

Karen Gross
16:11 09 Oct 20
Matias is hilarious and was also able to provide a memorable magical experience through the pandemic. His show is crafty, full of laughs, and really provides an interactive experience.

Harsh Patel
16:07 08 Aug 20
Matias was incredible! The show was terrific and really helped take my friend's long distance birthday party to the next level. Everyone was entertained and bedazzled by the performance. Matias was thoughtful and patient through any technical issues and very accomodating to our needs. We especially enjoyed the personalized tricks and audience. participation. I have already, and will continue to recommend Matias to all of my friends seeking pandemic-friendly entertainment! Thanks again!

Peter Loftus
18:07 28 Jul 20
Wonderful show for my company's virtual engagement program!

Alexis Byrd
14:09 27 Jul 20
Magician Matias exceeded all expectations in his virtual show. The audience loved his level of engagement and was especially amazed by his interactive card trick

Katie Brehm
17:25 22 Jul 20
I have seen Matias in person and now virtually. It is amazing how he can build an intimate and engaging show using Zoom. It was like having him and everyone else on our living room. It is so cool how he mixes magic and technology to actually make everyone participate. I fully recommend him!

Felipe Saffie
15:22 10 Jul 20
Matias was incredible. Super friendly, funny, and a very experienced illusionist. We had seen him previously at the McKittrick, and this was actually more enjoyable since it was personalized!

Yedi Peguero
15:15 08 Jun 20
I ask Matais if he could do a short performance for my special needs students virtually. He was a ton of fun, very interactive, and kept us entertained! My students really enjoyed his show!

I attended a show recently and really got a kick out of Matias' fun tricks and friendly engagement of the audience. I came in with a head full of office-related preoccupations, and left with the joy of wonder and a few good laughs. Thanks for a great evening!

Adam Houhoulis
17:41 25 May 20
Matias Salmon-Letelier provides so much playfulness and mystery in his show. And his skill is amazing! He also includes everyone so that it feels like a community experience. I highly recommend!

Renee Roederer
00:16 23 May 20
Great illusionist, don't know how he did it!

Zach Schwanbeck
00:05 19 May 20
Contracted Matias to do a virtual magic show for my wife's birthday. I found him via an internet search with no prior experience. I wasn't too sure how well a live act would translate to a virtual event, but it was wonderful. Matias was funny and energetic, and really kept the audience entertained! Also, the instructions and help to make sure the show went off smoothly were top notch. Good stuff and highly recommended!

James Siegel
22:55 16 May 20
"Thx Matias Letelier for doing all of your amazing videos and keeping your magic going" - Soren (age 7)Matias is a great charismatic showman. He is entertaining, current and 'charming' in more than one sense of the word 🙂 He puts the audience at ease while involving them in the show in a really fun way. If you're looking for an illusionist for a social or business event he'll work with you to come up with something just right. I wholeheartedly recommend him. (Quentin - Soren's Dad).

Quentin English
22:47 09 May 20
What an amazing show and right in your own living room. So entertaining and a wonderful interactive experience. Matias is an amazing illusionist and full of charisma. Who couldn't use a little magic right now?

laura zinn
22:35 08 May 20
This was the most enjoyable experience I have had my whole 6 weeks of quarantine so far! Experiencing Matias digital show feels like you are having your own personal Las Vegas or Broadway show but intimately in your own living room. He is hilarious, charming and just when you think there is no way he is going to pull this trick off--- bam--- you are floored at his talent. He is worth every penny, because for the first time during quarantine, I forgot I was in quarantine and that we were experiencing a world wide pandemic. Matias really makes you believe in magic and I am so grateful for him bringing us hope and joy to our hearts again.

Sarah Acosta
22:36 05 May 20
Incredible show - we all needed a good laugh and were thoroughly entertained.I plan on surprising other friends with his gift ASAP ... again

This show brought some joy when we need it most! Thank you, Matias, for you energy, your humor, and your magic!

Nancy Abbey
23:30 04 May 20
I LOVE Matias' performances, and especially how he has been able to adapt them for this time in quarantine. Matias did a show for our church and amazed and delighted us all - even in a zoom meeting! The show was interactive and entertaining and lifted my spirits.

Katie Cole
13:51 29 Apr 20
Matias is awesome. He provides such a great atmosphere and it is obvious he loves what he does. We have seen Matias perform twice and every time when he finishes, the conversation continues for hours about how great his performances are. I highly recommend him for any event you have.

Maxwell Avery
21:36 27 Apr 20
Very fun show! I appreciate Matias taking the time to perform for us. Audience participation was neat!

Jon Keller
15:03 27 Apr 20
Matias show was very entertaining! Great for all ages.

Paula Mockute
08:13 27 Apr 20

Zachary Herlands
20:49 25 Apr 20
We had an excellent evening over 2 shows with Matias - rave reviews from our teams and it was such a fun time! Really recommend the virtual show. Very uplifting and fun, much needed in the current environment!

Katelyn Atherton
08:26 20 Apr 20
Matias charmed us with magic and humor. He personalized the performance for our graduate Scott, making it fun, interactive and entertaining. Thank you Magician Matias. You are the best.

Dee Salmon
11:50 17 Apr 20
We had a wonderful Zoom birthday for my husband. Mathias and team were super professional, easy to work with and the show was amazing. I had friends and family emailing and texting saying how much they enjoyed the show and connection. I highly recommencement for a family friendly event option!

Sarah Opheim
02:34 08 Apr 20
Matias brought the MAGIC to our online self improvement group meeting during very dark times. We were all so grateful for his positive and uplifting online show. I am excited to include Matias in many future online meetings as he completely uplifted the mood and energy of our group. Thank you, Matias!

William Wise
12:26 01 Apr 20
Great entertainment and really interesting "tricks".

Randall Gianopulos
00:02 16 Feb 20
Matias helped us host a great event! He is very professional, talented, and was great with our hotel guests.

Constance Turner
18:41 14 Jan 20

Richard Vacas
15:20 11 Jan 20

Gina Hoffman
04:03 28 Dec 19
We had our Holiday event for my Executive Team and Matias' presentation was the surprise for the night. He did such an amazing job including everyone around the tables in his tricks, entertaining everyone with such professionalism, and also amazing everyone with his expertise. I heard many laughs across the museum floor, and many more "Wow" moments.Thank you Matias, you made it such an amazing evening. Actually, perfect to begin celebrating the Holiday season...

Margarita Navarro
23:24 22 Dec 19
Matias and his booker couldn't have been more communicative and professional leading up to my corporate event. At the event itself Matias was very personable and performed lots of great tricks that all of our guests loved! Thank you Matias and Coni for a great event!

Jessica O'Brien
20:22 11 Dec 19

Schandel Meshman
03:09 17 Nov 19
The booking process was a pleasure!Everyone enjoyed his performance!!

Adelaide Khezrie
23:15 02 Nov 19
Matias' show at my friend's birthday party was great! Highly recommended! Just don't be like me and tell him what's in your mind before he reads it!

James McGrath
20:02 24 Oct 19
Matías was excellent. He was very entertaining and I enjoyed all the show. He is also very charismatic and connects very well with all the audience. I am so glad he performed at my sister's bday party.He was the cherry on the cake!

Sonia Kaiser
03:43 21 Oct 19
Matias is amazing! I just had the opportunity to hire him for my Birthday Party, he was on time, organized and very professional. He was very easy to reach, talk and coordinate before the event. He is a very sweet person too! My friends and I had a blast at the party, I definitely recommend him for a show. Thanks Matias!

Sofia Jaimes
15:58 16 Oct 19

Brett Senzer
21:51 15 Oct 19
Matias is worth every dollar! He delivered fun and imagination to our clients!Thank you for a great event.Valley Financial Group

kevin mcgarry
18:22 15 Oct 19

Daniel Lee
16:27 12 Oct 19

shobha viswanath
16:59 13 Aug 19
Matias was hired to assist with my bourbon brand's launch party which had a 1920's theme. He roamed the party and connected with guests while they mingled and tasted the bourbon. Everyone had a blast and really enjoyed his sleight of hand tricks. He also introduced the new bourbon to the crowd with a bit of shock and awe. He's great and I highly recommend him.

Andrew Quinzi
16:00 07 Aug 19
Mattias is amazing!! It is now two weeks later and people are STILL talking about what a great addition he was to my husband's 40th bday party. I definitely recommend hiring him and will be contacting him again in the future for other events!

Christina Stivaly
18:19 11 Jul 19
Matias was an amazing addition to our event. He integrated our products & organization into his work seamlessly. Some people actually thought he was an employee! Definitely one of the most personable entertainers I've ever worked with. Would hire again in a heartbeat!

Angela Meyer
21:21 26 Jun 19
Dear Matias,Wow! What an amazing show! Thank you for your extraordinary evening filled with jaw dropping illusions. I'll look forward to bringing you back for our next outing.Best regards,Larry

Larry Pettinelli
19:50 21 Jun 19
Matias is amazing!!! His talent is over-the-top. Seriously, no one had any clue how he was able to do all the tricks he performed. He worked the room continually. Everyone around him was smiling, yet baffled and speechless. What a charismatic, fun and very professional entertainer! We look forward to working with him again and also referring him to our friends and colleagues, without hesitation.

Lauren Spector
03:24 15 Jun 19
Matias was amazing! With many illusionist/magicians you can predict what the outcome will be, not with Matias - highly recommend him for all types of events!!

It was amazing we all had so much fun together!!! I would do it again any time

Florian Kettemer
12:44 27 May 19
Just thank you again! Everything was perfect and easy. We where laughing so much on our family reunion. I do recommend him very much!

Stefanie Huttner
15:09 21 May 19

Alison Coluccio
17:30 18 May 19
Mathias not only BLOWS your mind, but he can READ your mind!!! And as much as his magic will wow you, he is great for any party! Mathias is very engaging, fun and professional. THE REAL DEAL!!!

Jackie Reynolds
16:39 15 May 19
Matias came to a private birthday event I held in South Hampton. He was so amazing. I hired him as a mentalist and he was a big highlight as entertainment. You will not only be entertained, but will spend the next day trying to understand how he does everything! thank you matias!!

Myka Meier
16:05 13 May 19

Jennifer Osmun
05:38 13 May 19

ronald purpora
12:39 12 May 19
We recently hired Matias for our son's first communion celebration. We were so happy we did! His work is incredible. Not your typical "magician" type stuff. He is highly entertaining and mind blowing. We loved the close-up magic where people were able to get up close and personal with his tricks. Also, it gets all your guest engaged and involved. We then did a "show" while we sat for appetizers. I would say his act is good for crowds of all ages. From the very young all the way up to the great grandparents...they we so entertained and awed. Many of you may be looking for an illusionist just as I did... google! I took a chance on Matias as I had never seen one of his performances before. To say I was happy would be an understatement. If you are looking for good clean fun and professionalism he is absolutely the guy. You will not be let down by his talents. I recommend him one thousand percent.

Nicole Poliseno
17:15 09 May 19
Terrific job entertaining!

Faith Lorenzo
15:39 01 Apr 19